Before anything has to be said I got both hats in that thing you call a game, High School Roblox: ODers playground.
So wanting to get the Fedora to tip to people and a frozen gravy that is stuck to my troso. So I went to the place.
And the first bloody thing that I saw, literally first is this.

So I knew it was gonna be terrible.
After that I saw a visual version of Austisim.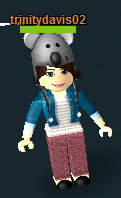 So after a few minutes I ran away from that "thing" (it scares me), guess what I found?
"OH LORDY JEEZUS I THANK YOU!" That what I said until I tried to collect one.
It didn't give me anything. Raging and crying.
After a minute a bloody meteor landed near me and then I found a working one.
So now I went to buy a house just to see whats inside and the game told me something kids wouldn't understand.
The game is telling me to push the air dryer into the bath tub with me in it.
I was so scared I ran outside the house and found a random gravy container.
But before I left I said, "EVERYONE BUT ME IS CANCER".
Please, do not ever join this place until you give up at life.
Community content is available under
CC-BY-SA
unless otherwise noted.